St Mary's Crossframe Pavilion – DIT / IAF Wellbeing Collaboration:
Please click on the link below to access the video:
https://vimeo.com/330366310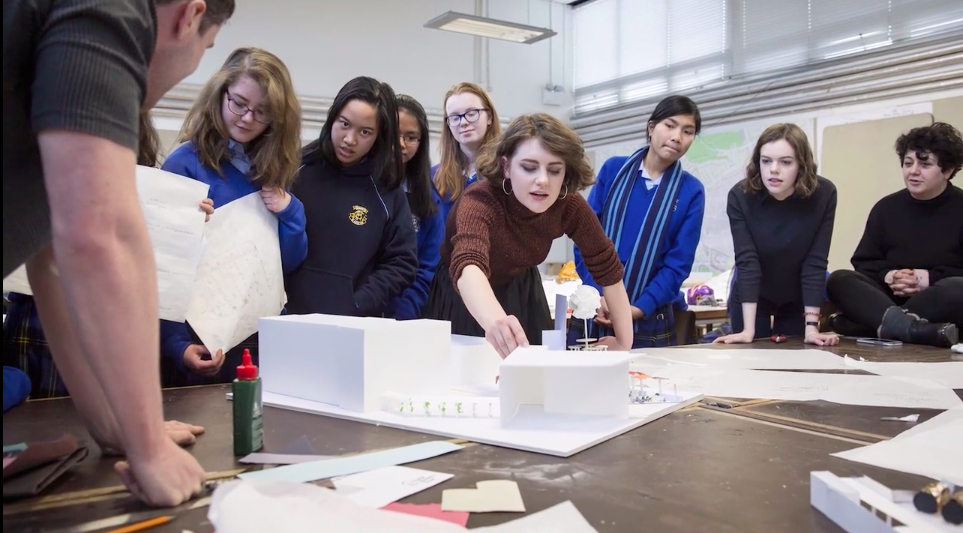 DIT / IAF Wellbeing Collaboration: Last year 25 TY students were mentored by final year students and tutors from DIT's School of Architecture. It was a collaboration with DIT,  architect Evelyn D'arcy from The Irish Architects Foundation (IAF) and our TY Architecture students. The project looked at some of the needs of the school community and plans for a small scale mobile outdoor pavilion for students and teachers emerged. On Tuesday 25th September a crew of carpenters from Germany arrived at St Mary's to begin work at 8am. At 2pm on Wednesday 26th they completed the magnificent structure and celebrated in traditional style and in traditional costume by standing on the roof of the building they had just erected and blessing it and all who will use it in the future. Everyone is most welcome to use this outdoor space for teaching and learning, or for relaxing during breaks and taking some time out. We are deeply indebted to Evelyn, Sima from DIT, Anna and Cristian and their team of amazing carpenters and of course Ms Kavanagh who enabled the project to develop and grow in her TY Architecture Module. Many thanks to Colin for all his time and hard work throughout the project
The finishing touches were put to our beautiful Pavilion and Outdoor Learning Space on Friday 19th October when a team from DIT fitted the roof and gutters. Even before that students had begun to use it as a chill out space during breaks and teachers will now be more inclined to use it for Teaching and Learning with protection from the rain. The exterior planters have been filled with soil and bulbs will be planted for spring and  summer colour.