PARENTS ASSOCIATION AGM TUESDAY 22nd October 2019/BOM PARENT REPRESENTATIVE NOMINATION FORM
IMPORTANT REMINDER:
Parent School Association AGM Tuesday 22nd October at 7.30pm
We would like to remind all parents and guardians that the Parents' Association AGM will take place on Tuesday 22nd November at 7.30pm.
All are welcome and we would encourage you to attend. Two Parent Representatives to the Board of Management will be elected at the AGM.
Please click below to access the nomination form. Forms were  distributed to all students on Wednesday 18th September 2019 and must be returned to the school by Friday 18th October 2019.
Please see flyer below for details.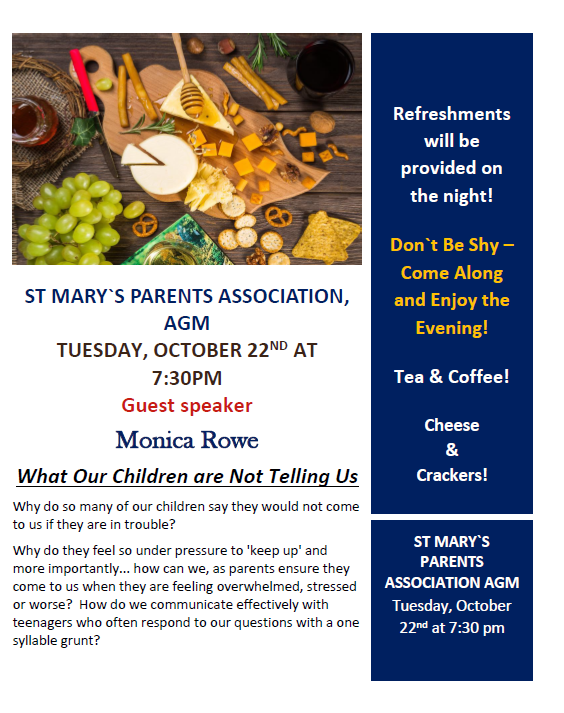 Monica Rowe of Key Conversations delivered talks to all of our first year students last Thursday 10th October and they were very well received. She also presented to first year parents on the evening of 10th October. Those who attended found the talk extremely helpful and also appreciated the opportunity to meet other parents and to share concerns.
We are delighted that Monica is available on the 22nd to speak to a bigger group of parents and we would advise you to come along if you are free to a talk which deals with issues which are relevant to us all as parents/guardians.
Please see below a fuller explanation of what Monica will be speaking about on the night.
Looking forward to seeing you all there.