Sports
Here at St. Mary's we offer a wide variety of extra curricular sports including:
Badminton
Basketball
Camogie
Gaelic football
Hockey
Running
Soccer
Please contact the teacher involved for further information.
Basketball 2017
Monday 30th January 2017
Today saw the 1st year team and the 2nd year premier team travel to Leixslip to take on Maynooth post primary.
First years kicked off the proceedings. The game was a tough one and challenged all aspects of our game. Maynooth were the first to score with St Mary's following closely with a great basketball from Sarah O'Connor. The quarter was fast and furious requiring lots of energy. Maynooth again took the lead, and again St Mary's responded with a score from Otilia Frunza. The 2nd quarter continued in a similar pattern with scores from Sarah and Emilia. In defence we worked hard to mark our players and collect rebounds. Maynooth's scoring was very good and they extended their lead. The second half of the game continued to challenge us and with moments of excellent play we were unlucky not to get any more baskets. The team should be very proud of their efforts today and have lots of strengths to continue going forward with. Final score 19-10 to Maynooth.
The 2nd years kicked off their 2017 season with a very tough game – our toughest game of the season so far. Maynooth opened the scoring but a quick response from captain Sarah Hanlon put us level and was closely followed by 2 free throws from Rosie Larkin putting us ahead by 1. The end of the first quarter saw Maynooth ahead by 1. The 2nd quarter continued in a similar fashion with baskets for Mai Perkins and Kate Meaney and again a lead by 1 for Maynooth. In the 3rd quarter Maynooth opened up a strong lead of 9-19. We had to dig deep to reduce the lead and we did just this in the final quarter. With good basics and some excellent lay ups from Mai Perkins we began to reduce  Maynooth's lead. In the last 2 minutes St Mary's pulled ahead 23-21 with a score from Rosie Larkin. However, Maynooth scored again putting us level. With seconds to go and under immense pressure Rosie Larkins long shot gave us the lead and the whistle blew. A huge achievement today for the team – not due to the win, but to the way we continued to fight and work together when we were under pressure and on the losing side. These are strengths that will stand to us as a team. Well done – rest up -tomorrow brings us another match!
 Successful end to term for 2nd years!
The 2nd year premier team travelled to Santa Sabina in Sutton on Wednesday. The game started well with a strong first quarter from St Mary's. The team worked hard and remained focused throughout and handed a strong lead to the 2nd 5. The 2nd quarter was tough but St Mary's maintained their lead. Santa Sabina challenged hard in the second half and the lead was reduced. St Mary's worked really hard and were rewarded with a great win before the Christmas break. Congrats to all and a special thank you to the girls who stepped in to help the team out.
On Friday the Under 19 premier basketball team travelled to the Swan Centre in Rathmines to take on St Louis's. We went prepared for a tough game and that's exactly what we got.
St Mary's started well with a strong zone defence and some great baskets. We won the first quarter but the scores were close and St Louis took the 2nd. The 3rd quarter saw us chasing a lead  which meant it was all to play for in the last quarter. Three fast breaks from St Mary's reduced the lead and with 4 seconds left to play St Mary's were ahead by 1 point. A foul against us led to free throws for St Louis' and they equalised. This resulted in extra time and unfortunately at the final whistle St Louis' were ahead. A
h

uge congrats to the team who showed passion and determination today and should be extremely proud of there efforts and

h

ard work.
Basketball Blinder!
Congratulations to the 2nd year division 2 basketball team who kicked off their season with a great performance today. We travelled to Le Cheile in Donnycarney to play against St Mar'ys Killester. As it was the first game of the season nerves were on edge and hopes were high.  After the warm up, the starting five players were eager to get going. The first few minutes of the quarter were frenzied until we found our rhythm and calmed our play down. We had numerous shots but unfortunately they were unsuccessful, and Killester got the first score. We worked hard and were finally rewarded with our first basket. Throughout each of the quarters we worked well, supported each other and worked hard to win and maintain possession. We continued to add to our lead and had luck on our side. The game ended 24-4. Congratulations to all of the team on a great start to the season and especially to the new players who represented St Mary's for the first time today!
Volleyball Tournament Dundalk 15th November
Volleyball Tournament Dundalk 15th November
The excitement was palpable as we left St Mary's and travelled to Dundalk.  The teams were professional in their approach and warmed up well upon their arrival.  The competition was tough, with lots of matches. The results were mixed with a variety of losses and wins for both 1st years and 2nd years. The teams should be very proud of their efforts and the excellent group work skills they demonstrated today –  every game is a learning opportunity.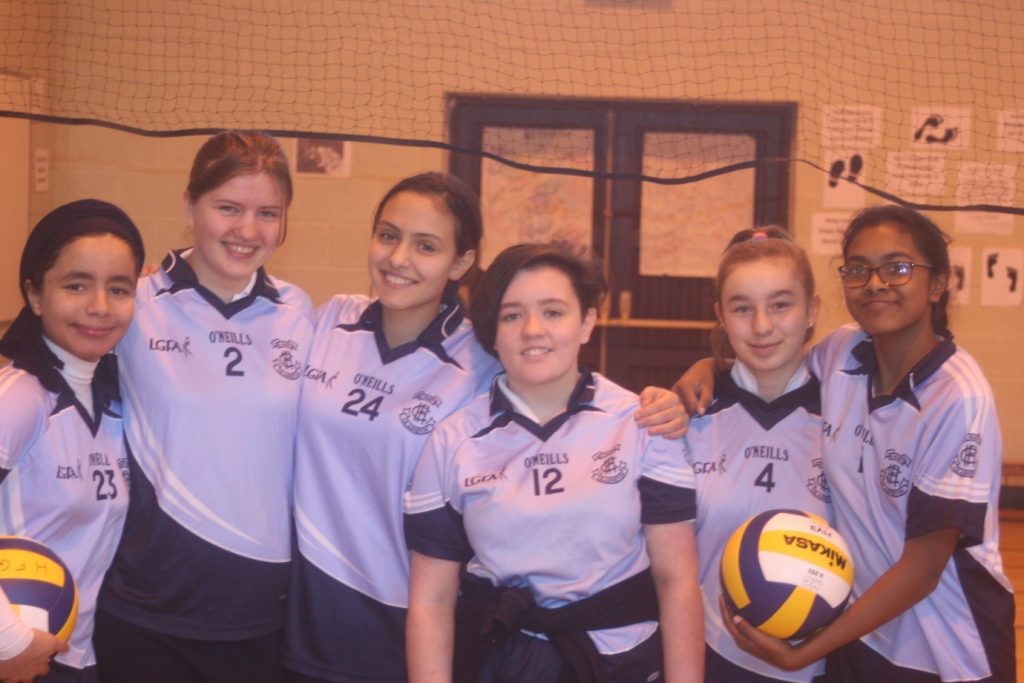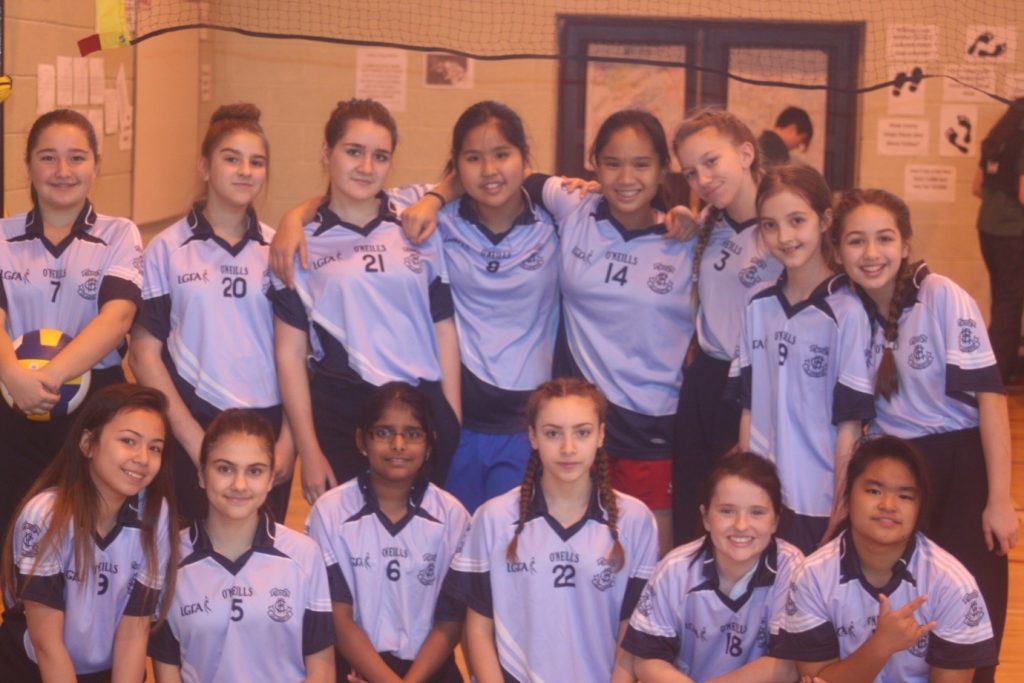 2nd year Hockey
The return of 2nd year hockey after the extended mid term break proved a tough return for us. High school Rathgar were our opponents for the match which  proved a great challenge. Congratulations to Tara McCabe who was chosen by her peers as the team captain for the season prior to the whistle. The game was fast paced right from the whistle and Rathgar took a quick lead.  We battled hard and had a number of opportunities resulting in some shots which were just wide of the goal.  The backs – Cliodhna McGrath, Sarah Hanlon and Aine Rooney were put under pressure with some penalty corners and worked hard and successfully alongside goalkeeper Tara McCabe to defend them. Just before the half time whistle, some creative play from the mid field led to a superb goal by Rose Roy.
The half time whistle brought some well needed rest and some changes.  Another goal by Rathgar set the tone for the second half. And although the second half again provided St Mary's with some goal scoring opportunities from Mai Perkins and Rose Roy, however, luck wasn't with us and we were unable to get a score on the board.  We battled hard but were unfortunate that Rathgar got two quick goals to cement their lead.
Congratulations to Amy Alcock and Aoife Grace for making there hockey debut – we look forward to lots more games in the future. Congratulations to Athlea Faye who was chosen as Dame of the Game by the team.
Gaelic and Basketball News – November 2016
The junior football had a second great win this week against Coolmine CS.  We beat them 10.14 to 2.2. With the team being captained by Megan Kelly. Our remaining fixture is in two weeks against St Michaels Finglas.
The division 2 and premier under 16 teams had their first outing today against Mount Sackville but unfortunately both teams lost out, with the division 2 team losing by a basket in extra time. Attached are some photos from today's teams.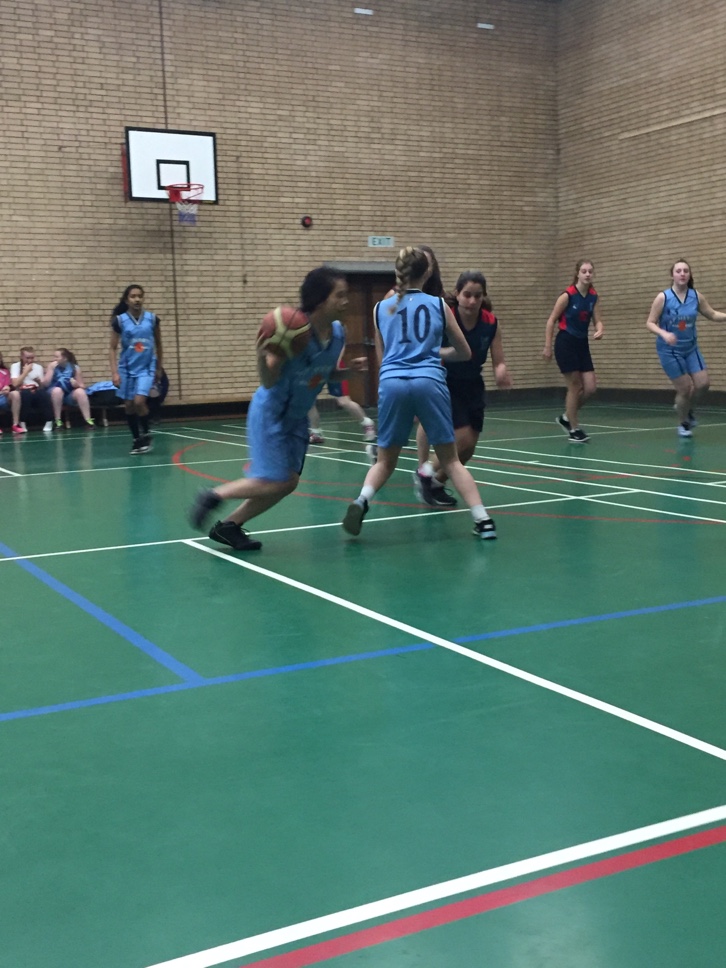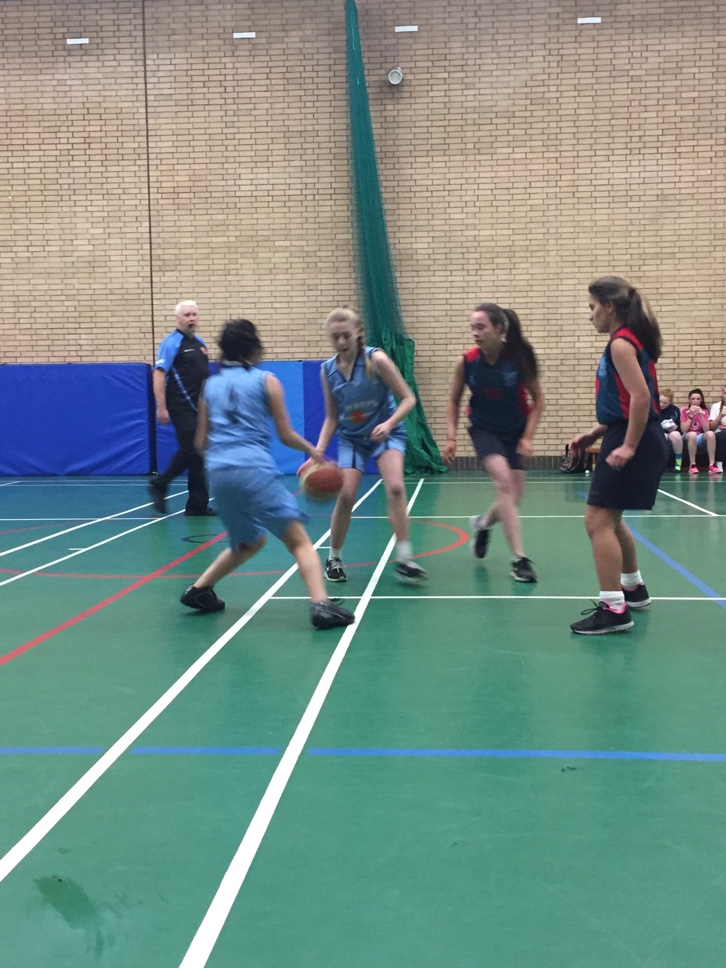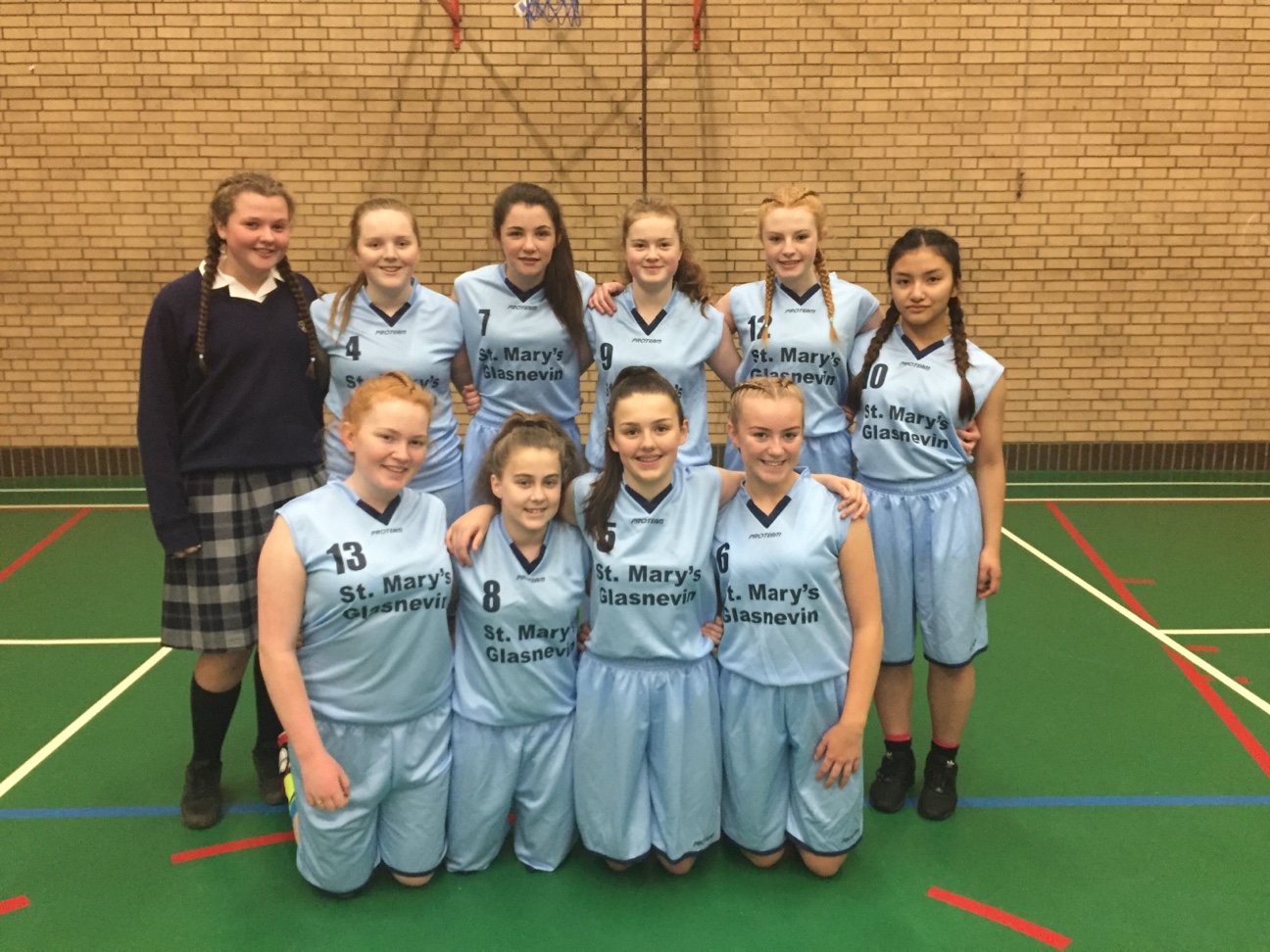 Hockey Updates
Click on the link below to access the latest hockey reports: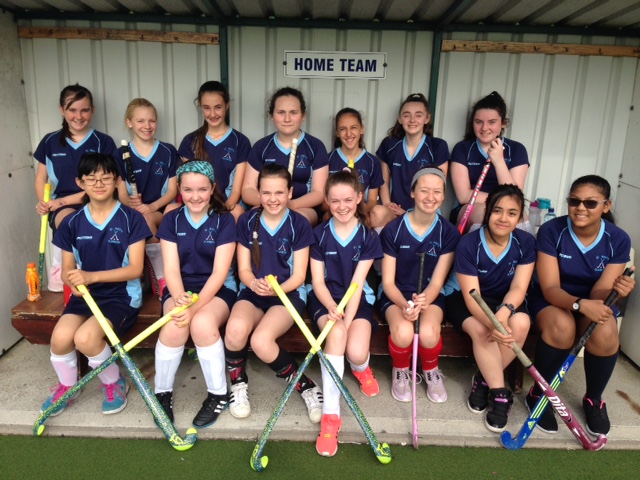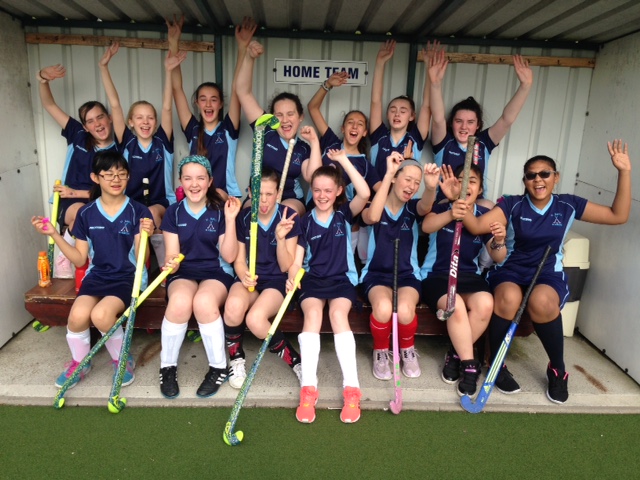 SPIKEBALL Tournament Monday 17th October 2016
Well done to our first and second year SPIKEBALL teams who played their first friendly tournament in Tallaght on Monday. Getting to know the rules was the aim of the tournament.
SPIKEBALL is an initiative developed by the volleyball association of Ireland to introduce junior volleyball to students. SPIKEBALL is an adapted four player vs four player volleyball game that was introduced to Ireland in the last three years.
Best of luck to the girls in the year ahead.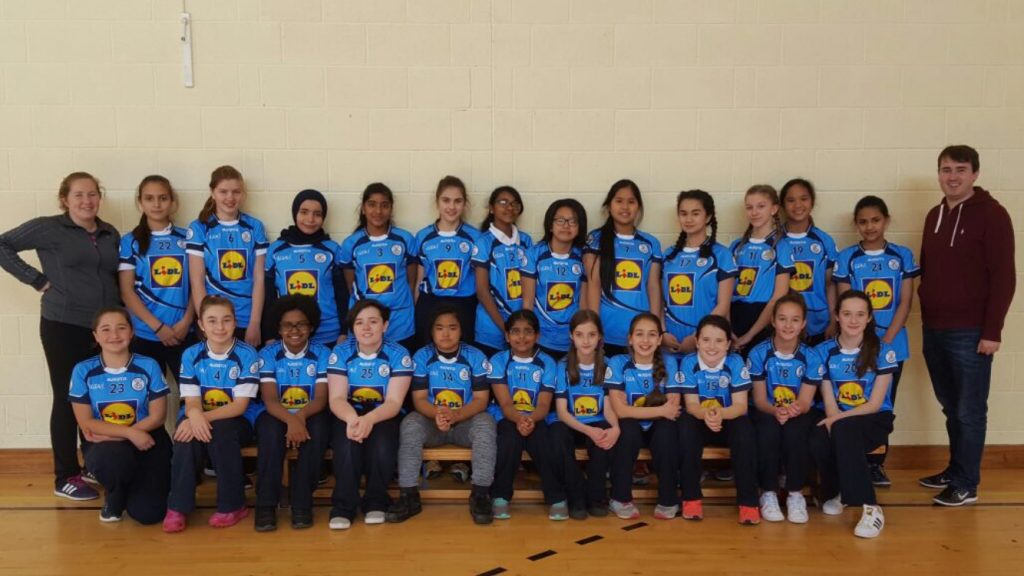 Gaelic Glory Tuesday 4th October 2016!
Congratulations to our Gaelic footballers! They defeated Our Lady's College, Greenhills 7-9 to 4-5 at Tuesday's match. They will play Scoil Chaitríona in their next match. Onwards and upwards!
Second  Year Hockey Friendly against Clontarf 6th October 2016
After Tuesday's defeat, we were looking forward to redeeming ourselves and improving our performance against Clontarf. The game started well with a quick goal for St Mary's by Rose Roy.  We worked hard in the mid field and the backs were put under pressure with a few penalty corners by Clontarf. Some great saves by goalkeeper Tara McCabe kept our lead. And two more quick goals by Rose Roy and Mai Perkins gave us a strong lead at half time. The second half was tough and Clontarf continued to look dangerous. Some great work from the midfield players set up another goal by Mai. Clontarf replied with a goal of their own and continued to keep pressuring the backs. A final goal by Rose before the whistle concluded the game 5-1. Lots of room still for improvement and lots more games to come! Well done girls!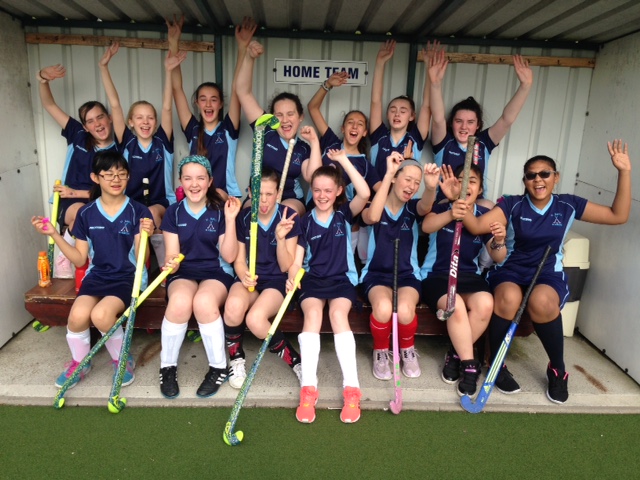 DCU Soccer Blitz
Congratulations to our soccer players who performed remarkably well today in the soccer blitz hosted by DCU Soccer Club.
This was their  first competition of the season where seven local schools played, three of which fielded all-boys teams. Our girls were not daunted by the challenge. They beat the other three girls teams by very high margins, 6-1, 7-0 and 8-0. They were defeated by two of the three all-boys teams but managed an outstanding 2-2 draw against the other team!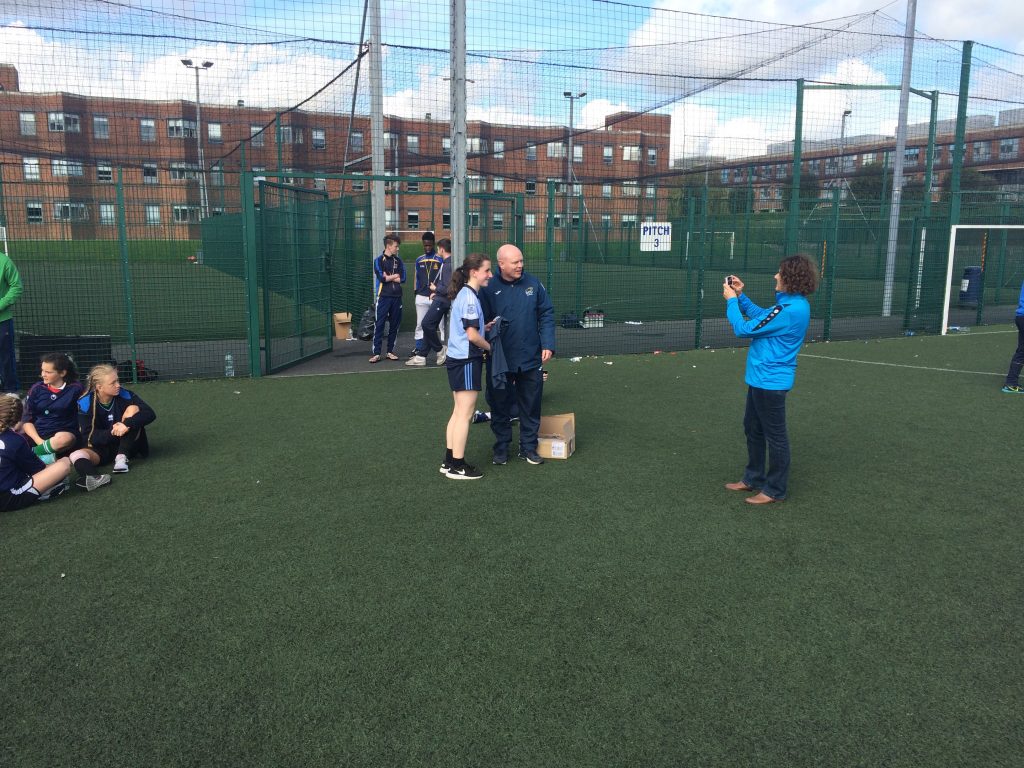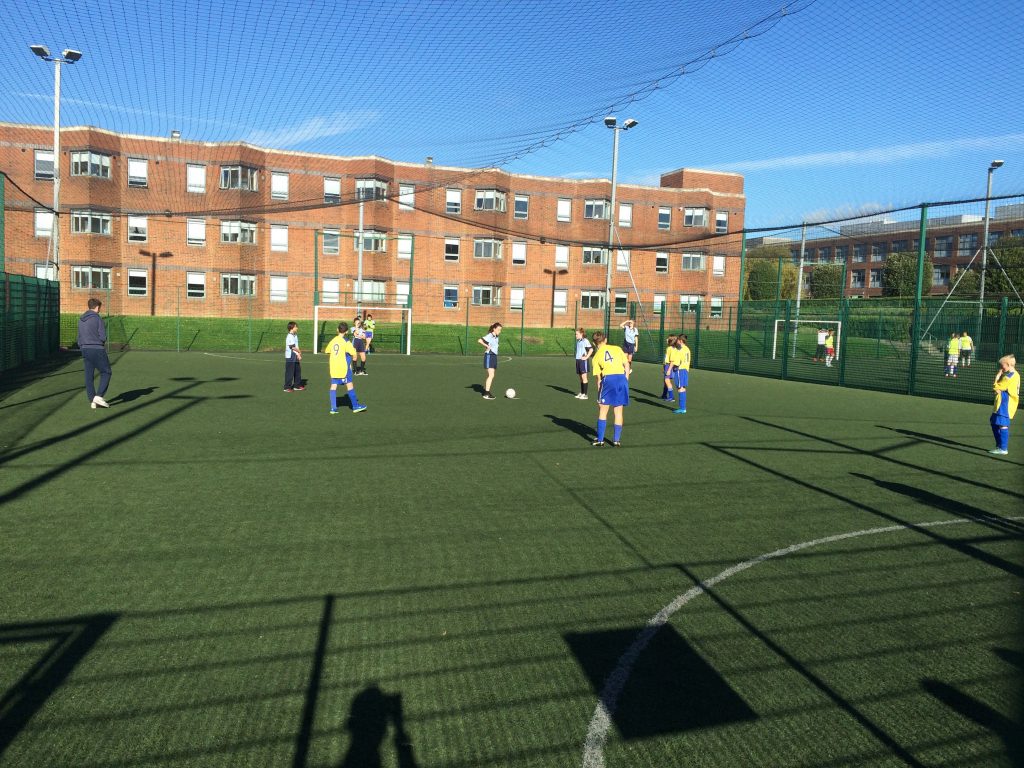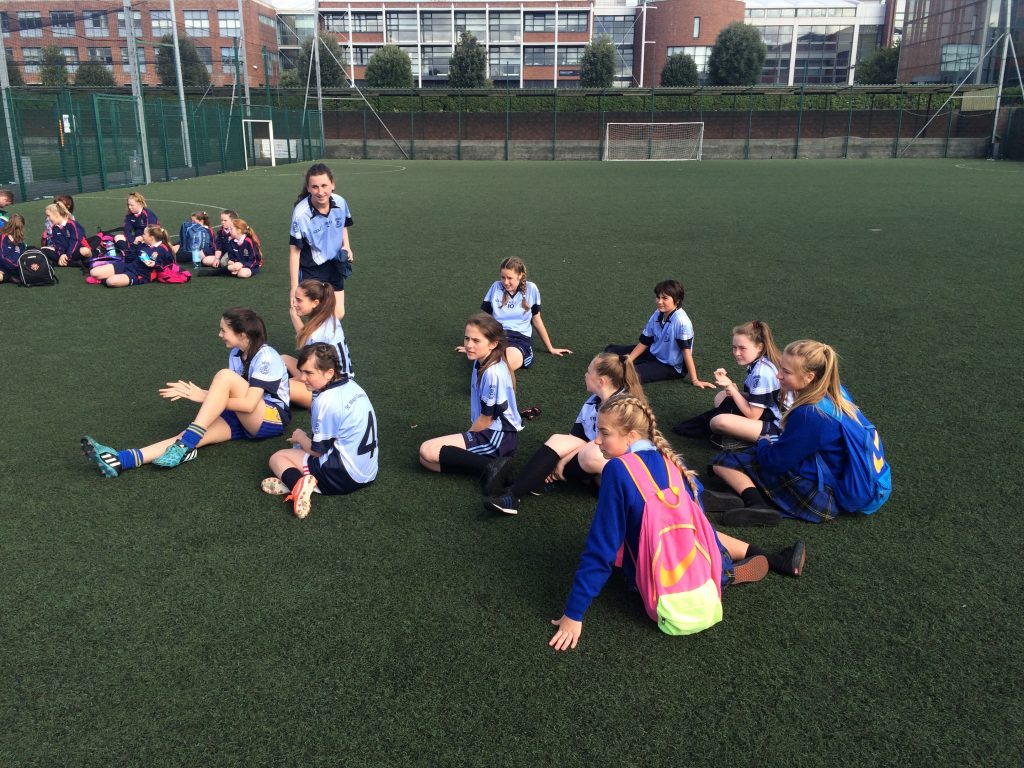 Well done to a team that showed great motivation, commitment and attitude, and have been entered in a first year Leinster schools league. Hopefully the team will continue this great form into the season. Onwards and upwards!