Le Chéile Day 2020
Le Chéile Day (formerly known as Pay it Forward Day) is going ahead this Friday as scheduled, all be it slightly differently/remotely, and the poster below says it all.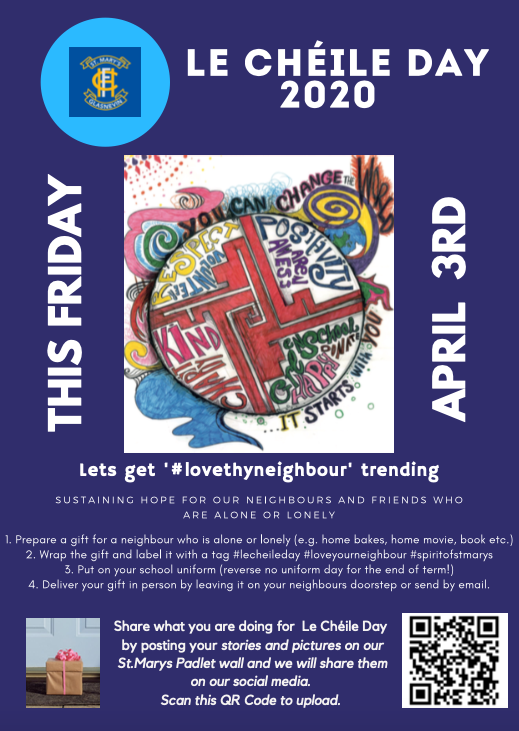 The message of Le Chéile Day is "Love thy Neighbour" and we are being asked to sustain hope for our neighbours and friends who are alone or lonely. We can get involved by getting  #lovethyneighbour trending online and by doing something on the day to help a family member, friend or neighbour who is alone or lonely.
We are calling on students to:
Prepare a gift for a neighbour who is alone or lonely (e.g. home bakes, home movie, book etc.)
Wrap the gift and label it with a tag #lecheileday #loveyourneighbour #spiritofstmarys
Put on your school uniform (reverse no uniform day for the end of term!)
Deliver your gift in person by leaving it on your neighbours doorstep or send by email.
Post your story on social media using the hashtags #loveyourneighbour #lecheileday and tag @lecheiletrust
Mr Coll has created a special St. Mary's Le Chéile Day Padlet to collect the stories and photos of the day from students. 
Students will scan the QR code and they can post directly to our Le Chéile Day wall. Keep an eye on our Website, App and Twitter to see what is being posted throughout the day and tag lecheile.