Invitation to a Day of Prayer and Reflection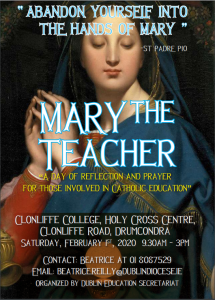 The Archdiocese of Dublin Education Secretariat and Mgr. Dan O'Connor the Episcopal Vicar for Education are organising a day of prayer and reflection for those involved in Catholic Education during Catholic Schools Week.  This event will take place in the Holy Cross Diocesan Centre, Clonliffe Road, Dublin 3, on Saturday 1st February 2020.
The theme is 'Mary the Teacher' and the schedule commences at 9.30am with breaks and a light lunch, finishing with Holy Mass celebrated by Mgr. Dan O'Connor.
There will be time for prayer and reflection as well as interesting discussion and testimonies. There will be inputs on the day from school leaders, school personnel, priests and lay people and it promises to be a very fruitful experience for those who attend.
School leaders, staff, BOM and parents are all welcome to attend.
For full details and to book please see the PDF below: