CALCULATED GRADES STUDENT PORTAL
IMPORTANT INFORMATION FOR ALL 6TH YEAR STUDENTS
Dear students,
As you are aware all students are to be offered the option of receiving Calculated Grades for the subjects they are studying and the alternative of sitting the 2020 Leaving Certificate examinations at a date in the future when it is considered safe to hold the examinations.
To support the system of Calculated Grades an online Student Portal has been developed for Leaving Certificate students.
This online system for students – the Calculated Grades Student Portal –  will open at 10am tomorrow Tuesday 26th May and will close at 10pm on Thursday 28th  May.
All students are required to register in order that they have the opportunity to receive Calculated Grades at a later stage. Following registration students  are required to confirm the level for each of their subjects. It is essential that students register and confirm their levels at this time. 
A very important guide for students outlining the important steps you must follow to register has been published and can be accessed at the link below:
Calculated Grades Student Portal – Before You Start Guide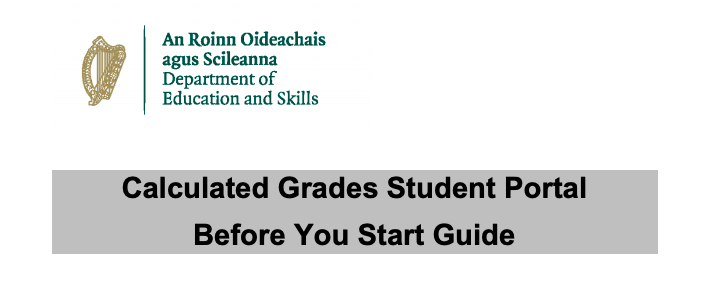 Please read this guide in full before you commence the registration and subject level confirmation process.
Please read also this 'Letter to Students' from Andrea Feeney, Director at the Calculated Grades Executive Office.
Letter to Students re Calculated Grades Student Portal
Students will need  their Examination Number and their PPS Number to register on the portal.
If you require your examination number please link in with Ms Devaney on Teams Chat or email fdevaney@stmaryshfg.ie.  You can find your PPS number on the documents outlined in the guide or you can call the school on 01-8374413.