REQUEST FOR UNIFORM DONATIONS

Notice for 3rd and 6th year students and their parents and guardians:
Dear Parents, Guardians and Students,
In the present precarious circumstances we are requesting  donations of  school uniforms from third and sixth year students who no longer have any need for them.
The Parents Association would normally hold their 'Second Hand Book and Uniform Sale'  in late June but this, unfortunately, will not be possible with the present restrictions in place. They have assured us that the sale will happen next year as usual and if students wish to hold on to their books to sell at the sale next year they can do so and we will contact past 6th years to remind them about this event.
However, if you wish to donate your books now we will ensure that they find good homes and that all items donated will benefit our students.
We are always very grateful for any donations of uniforms that we receive. This year we anticipate that the need will be greater than ever and we urge you to donate any articles of uniform that you can. We would particularly appreciate school jackets so we could ensure that every student will have appropriate winter attire for the wet and windy season.
To facilitate the delivery of donations in line with HSE and government guidance we are designating next Wednesday as 'Donation Day'. Colin will set up a one way system in and out of the gym where tables will be placed at a safe distance apart for you to leave any items you are donating. Strict social distancing rules will be in operation. You may deliver donations  on Wednesday 27th May anytime between 9am and 3pm.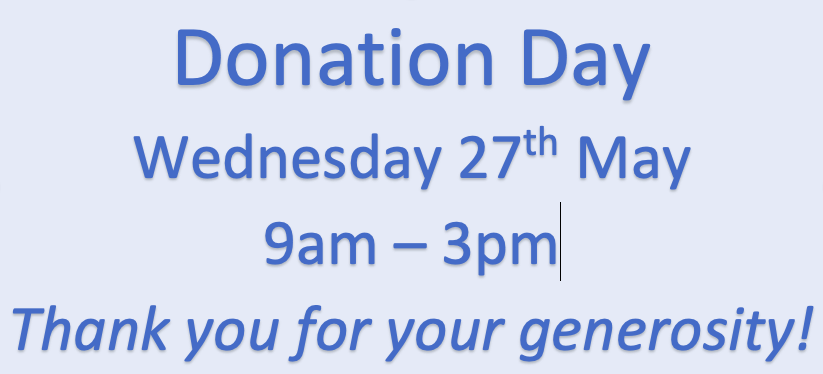 If for any reason you can not make it to the school on that day or during those times but would like to make a donation, please ring us on 01-8374413, or email bbourke@stmaryshfg.ie and we will make an arrangement to suit you.
As ever, we are deeply indebted to you for your generosity during this unprecedented emergency, and over the years.
Keep safe and well.
Warmest regards,
B Bourke