Junk Kouture entry by TY students. Vote for them today!
Check out the Junk Kouture costume created by TY students Saoirse, Emma and Sandra which was selected for the Regional Final to be held in The Helix, March 2nd.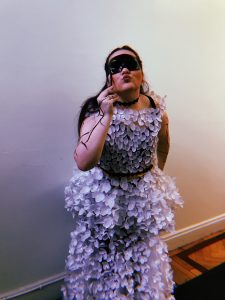 There is a public vote which is 10% of the overall vote and it would be great for us as a whole school to support their entry.
The Lifeline Vote is open now until Friday 07 February (6pm) followed by the Regional Finalist Vote on Monday 10/02 (10am) until Friday 14/02 (6pm).
How to Vote. 1. Register to vote app.junkkouture.com
(Teachers/students do not need to create a voter account if they have already registered)
2. Vote for your favourite design(s) everyday Mon 03 – Fri 07
3. Earn extra votes by completing tasks
4. Look out for the daily magic word on our insta stories next week! @junkkouture
5. Give all your votes to ONE DESIGN on Friday.
Check out their video below!